courtesy BBC online
One of the biggest moments of Donald Trump's presidency is looming large. We asked experts what they think of his preparations to meet Kim Jong-un.
When asked about his planning for the Singapore summit, the president was straightforward.
"I don't think I have to prepare very much," he said. "It's about the attitude. It's about willingness to get things done."
He's said he'll work on the flight, bringing with him 15 boxes of material to pore over.
This week, he met Prime Minister Shinzo Abe of Japan, US Secretary of State Mike Pompeo and others, to discuss negotiations in Singapore.
But by almost any measure, the preparations for the summit were fast-tracked – officials who worked in previous administrations said they would start getting ready months or even years for their meetings with North Korean officials.
Trump's supporters applauded him for his speed at organising the work before the meeting was scheduled.
"It would've taken two weeks just for Kerry to get his bicycles to Singapore," said Fox Business' Lou Dobbs, making fun of John Kerry, the former US secretary of state.
For others, though, Trump's quickfire approach – and the speeded-up timetable – is worrisome. They say the pace of the preparations could put the negotiations in jeopardy.
Trump wants Kim to give up his nuclear weapons and has spoken of the Nobel Peace Prize for his own role in the high-stakes negotiations. Chief of Staff John Kelly told me they have "great hope" for the talks in Singapore.
Some former US state department officials say that Trump's work has already produced results.
"The North Koreans have taken steps – like stopping missile tests – that no-one would have predicted six months ago, including me," says Joel Wit, a former US state department official and founder of a North Korea website, 38North.
"Of course – there's a lot more that needs to be done," he says. "But these are steps that no one would have predicted."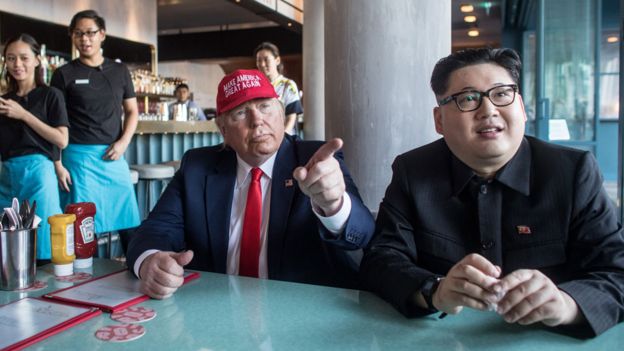 Others say Trump's already lost to Kim by going to the talks with no preconditions.
"There's too much focus on the meeting," says Albright Stonebridge Group's Eric Altbach, who served on the national security council under President George W Bush, rather than the meeting as a way to achieve an outcome.
One thing is clear – the president brings excitement to diplomacy and believes that confidence – not prep work – is what matters.
He cancelled the summit last month after the North Koreans issued statements about a nuclear showdown. Days later the president met a North Korean envoy who carried a letter from Kim.
The summit was back on, and the president's policy goal had shifted – at first he had said that he wanted denuclearisation immediately.
A senior White House aide told me that he has not backed down from his goal, but over time he began to understand that the process would take longer than he originally thought.
For some, the shifting of the president's ideas about denuclearisation is a problem. Brookings Institution's Ken Lieberthal, who was a national security council senior director for Asia from 1998-2000, says: "It's very hard to figure out what the bottom line."
In the meantime, the president's aides were helping him get ready for the negotiations. On Wednesday morning I watched the US treasury secretary, Steven Mnuchin, head past the East Wing of the White House and asked him about preparations.
"Things are going well," he said.
On Friday the president made it clear that he felt that he was on top of things – or at least he didn't need any advice from Democrats who, he said, had done "NOTHING about North Korea'".
No-one can predict how the meeting will go – or the negotiations. North Koreans want economic sanctions lifted, and they don't want to talk about human rights. They also want the US to reduce troops in South Korea.
Trump likes to keep an open mind. He could leave the meeting abruptly if things go badly – or invite President Kim to the White House.
They could also come up with a new agreement on that day. For some, the prospect is unsettling.
"The idea that the president is sort of walking into the room in an open-ended negotiation is beyond frightening," says Jeremy Shapiro, a former US state department official.
"Freelancing ideas in these meetings is dangerous," explains Shapiro. "There's all these implications of a policy shift", whether the issue is human rights, nuclear non-proliferation or the economic sanctions.
As a diplomat, he says, he learned about the nuances of various issues – and also how hard it is for any one individual to grasp all the different aspects of a policy in a short period of time.
Besides that, says Shapiro, the president has not appeared especially interested in the details of these policy matters. Instead he prefers to go into a meeting and see what happens.
Shapiro says he believes this strategy can work well in certain settings – such as the business world and reality television, areas where the president has worked in the past. But translating that style into the realm of nuclear negotiations, says Shapiro, is "a very serious mistake".
Human Rights Watch's John Sifton says: "He could decide the only solution is a military technical one, and as a result hundreds of thousands of people will die."
Others say that they understand why the president would want to enter into negotiations with an open mind.
"Yeah, there is a danger that he'll go off the reservation and make a comment that could actually do harm," says Wit. "But presidents in the past sometimes run with the ball themselves."
Wit says: "When you're president, you think: 'I'm not just a puppet that does everything my advisors tell me. I have my own ideas.'"
Wit says that President Ronald Reagan acted in an independent manner when he met Mikhail Gorbachev. They held a summit in 1985. Reagan's advisers wanted him to follow their talking points and were mortified, says Wit, when he made it clear that he wanted to speak in his own fashion – and on his own terms.
Reagan and Gorbachev didn't come to an agreement on any substantive issues, but nevertheless they were able to speak directly at the summit and, as Reagan said later, "understand each other better."
When it comes to the summit in Singapore, Wit says he's optimistic.
"It's not going to be a flop. I think the North Koreans are serious, and the president himself is pretty serious. He wants a win."
<! -- #comments -->