BBC online
The Arsene Wenger era – a story that started at Ewood Park against Blackburn Rovers on 12 October 1996 – is finally over after his decision to step down as Arsenal manager.
Wenger's name is synonymous with Arsenal after winning three Premier Leagues, a record seven FA Cups and six Charity/Community Shields, as well as overseeing the move from Highbury to Emirates Stadium in 2006, an arena that will stand as a monument to his achievements.
The 68-year-old Frenchman, who won the league and FA Cup double in 1998 and 2002, has become an increasingly divisive figure among Arsenal fans, as the club have gone 14 years without a Premier League title, but his success and impact on English football has made him one of the sport's most significant personalities of the modern era.
Wenger signed a new two-year contract after beating Chelsea to win the FA Cup in 2017, but dismal league form – Arsenal are 14 points off a top-four place and have no away wins in 2018 – added to increasing fan discontent and declining attendances, making his departure inevitable.
Wenger stuck to his principles even in the face of mounting criticism. But, ultimately, was he the manager who changed everything in English football and then paid the price for not changing himself?
'Arsene who?' The French revolutionary
"Arsene Who?" was one infamous headline that greeted Wenger's arrival on his appointment after a 19-month spell at Nagoya Grampus Eight in Japan, having previously won Ligue 1 in France with a Monaco side boasting England international Glenn Hoddle.
Arsenal season ticket holder and shareholder Darren Epstein, one of the most respected fan voices on Twitter with a following of 127,000, recalls: "Like most fans I'd never heard of him.
"We didn't have 24-hour news, live games from around Europe and, given that he was in Japan at the time, his profile was very low."
It soon became clear, however, that English football was witnessing the arrival of the man who would change the landscape forever with his approach to tactics, diet – instantly banning chocolate as a pre-match snack – and the culture of professional players.
Former defender Martin Keown, who was in Wenger's first Arsenal line-up, told BBC Sport: "My first thought on Arsene was: 'Do nice guys win things?'
"He would shake my hand three times in the morning. There was genuine warmth."
Daily Mirror chief football writer John Cross, author of Arsene Wenger: The Inside Story Of Arsenal Under Wenger, first covered the club for the Islington Gazette and has reported on his reign through 21 years as a national reporter.
He said: "My reaction was like everyone else. It felt like Arsenal were taking a huge gamble in an era when foreign managers were almost unheard of. Let's not forget he was the first foreign manager to win the Premier League."
Wenger, having replaced Bruce Rioch, would provide the answer to the doubters in the months ahead as he moulded the modern Arsenal on to the platform left behind by their former title-winning boss George Graham.
The revolution was swiftly into full swing with scientific methods that would shape the Gunners' success, starting with a Premier League title and FA Cup triumph in his first full season.
Keown, who made 449 appearances for Arsenal, said: "Looking back, it was a good marriage of old and new. He thought I could play and would say, 'Martin, you can pass the ball', after I was told it was an area I was not great at.
"The training sessions were different every day, always variation. We worked on clipping balls into players, movement, running off the ball. We did it without opposition – we used mannequins.
"We'd never seen a mannequin before – most of the lads probably thought it was a brand of cigar."
Wenger made his changes, if not by stealth, then in a manner acceptable to players at a club with a well-known and publicised drinking culture.
"Arsene came in at a time when players were ready to change," said Keown, who had two spells at the club.
"Arsene was clever in that he didn't tell us to do things. He would bring in professionals to spread his message, otherwise it might have been like a child saying: 'Oh, Dad, I'm fed up listening to you.'
"He delegated well. There were lots of different messages from different professionals. There was a sports scientist talking about stretching, conditioning and training; a dietician doing blood tests; a doctor talking about the importance of vitamin C, iron and B12.
"There were slogans like 'chew to win' and 'sip to win'. We took the mick – but more significantly we took it on board."
"Arsene Who?" was putting Arsenal's foundations in place and blazing a trail for foreign managers.
Only two, Osvaldo Ardiles and Ruud Gullit, had worked in the Premier League before him – and he was to set the pace, template and trend for others.
From Christian Gross arriving at Spurs in 1997 to Javi Gracia at Watford this season there have been 54 foreign coaches to manage at least one game in the Premier League since Wenger was appointed at Arsenal.
Wenger will be remembered as the manager who opened the doors.
Wenger's glory years – the great alchemist
Wenger brought a golden age to Arsenal between 1998 and 2004, the early months of the 1996-97 season almost being used as a fact-finding mission for the era that culminated in "The Invincibles" going a 38-game Premier League season unbeaten to win the title 14 years ago.
In the 30 league games of his first season, Wenger's win ratio was only 46.7% – but 12 months later it had been transformed to a title-winning 60.5% as he proved himself to be the master of innovation, tactical mastery and alchemy.
Wenger welded the steel of the Graham era, with the famous defence containing goalkeeper David Seaman, Keown, Tony Adams, Steve Bould, Lee Dixon and Nigel Winterburn on to new, emerging, world-class purchases.
Midfielders Patrick Vieira and Emmanuel Petit were brought in, plus attacking talents Thierry Henry, Marc Overmars, Robert Pires and Nicolas Anelka – a 17-year-old signed from Paris St-Germain for £500,000 in February 1997 and sold to Real Madrid in the summer of 1999 for £22.3m.
And he was, of course, bequeathed one of the greatest jewels of all in Dennis Bergkamp, who was signed by Rioch.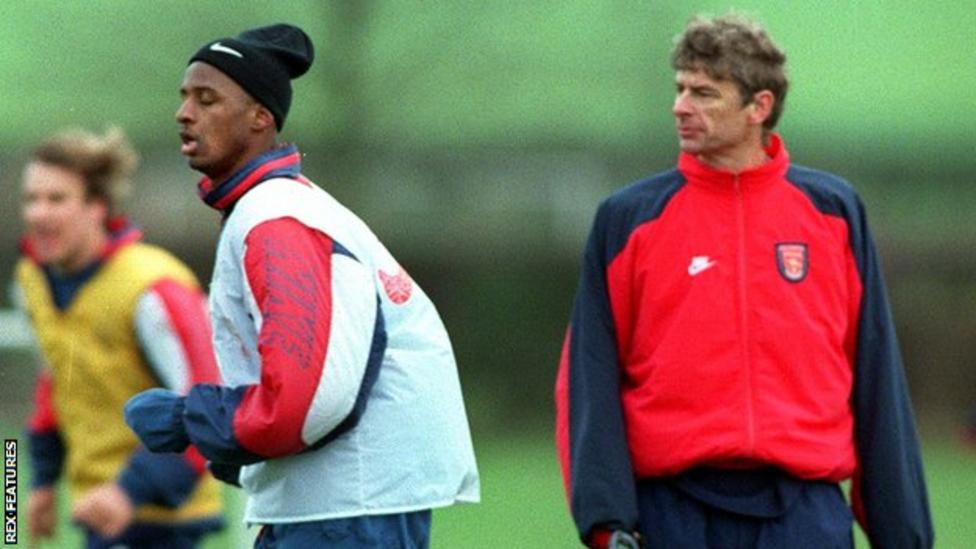 "Arsene signed great players and then made them greater, which brought us that period of success," added Keown. "Bruce Rioch thought that famous defence was finished, but they weren't. We understood everyone else's role and Arsene was clever enough to realise that element of management was being done for him on the pitch.
"He will be seen as a great visionary and that was just a wonderful period when we were all part of a beautiful transformation."
Trophies were gathered ruthlessly but stylishly. Three league titles, including those domestic doubles in 1998 and 2002 and the start of that collection of seven FA Cups.
Wenger's initial win ratio started to rise, reaching a pinnacle of 68.4% in the title-winning seasons of 2001-02 and 2003-04.
Epstein revelled in the joy of being an Arsenal supporter, enthralled by what Wenger produced, saying: "He mixed old Arsenal, tradition with a new way.
"Despite popular belief, Arsenal were not boring under George Graham – but the difference was if we scored our defence would shut out the opposition, so that is initially what Arsene Wenger mixed.
"It meant we had a core of players fans could relate to but who stayed in the team because they deserved to. He also brought teams together that were unbelievable to watch. We played Middlesbrough, Blackburn and Portsmouth, to name a few, whose fans applauded us off."
It was a potent mixture of new silk and old steel. Wenger had the materials when he arrived but his revolutionary approach, his ability to take the best of the old and blend it with his modern approach, turned it into a silver-lined Arsenal era.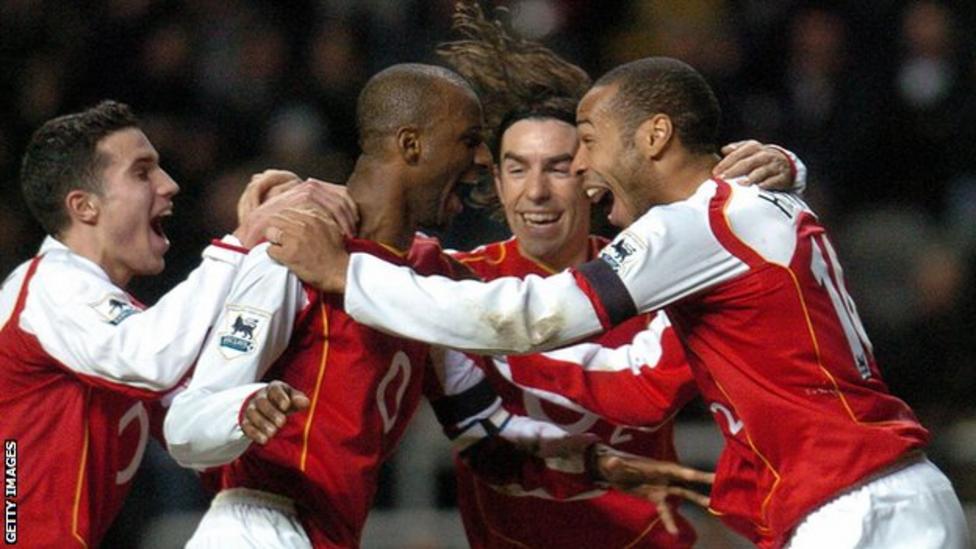 And what was this side like to face?
Phil Neville was at the heart of some of the greatest physical, mental, tactical and technical battles amid the great rivalry between Manchester United and Arsenal.
Recalling those encounters between Sir Alex Ferguson's side and the one managed by his greatest threat, Wenger, the former United player told BBC Sport: "His teams were horrible to play against, absolutely horrible. And make no mistake that is praise not a criticism.
"They were tough but technically superb. He inherited a dressing room with great characters who could all play and then signed more – and sometimes you need the characters more than talent.
"He moulded them into even better characters and, more importantly, even better footballers. All of a sudden, the type of football they were playing was a mix between power, speed and subtlety.
"My best memory of my career was the battles I had with Arsenal. They were so good we had to play differently against them. We had to change our tactics. We had to be aggressive on and off the ball. We had to disrupt the rhythm of Arsenal because if you let them get into a rhythm they were unstoppable. There were times when they did and they beat us easily.
"They were Premier League games that were on a different level to any other Premier League game I've ever played in. These games were, in terms of level of quality, almost like a Champions League game – with that real eyeballs-out concentration."
It was an era with its lows, such as losing the 2000 Uefa Cup final on penalties to Galatasaray of Turkey after a goalless draw and the 2001 FA Cup final defeat by Liverpool – but few could have imagined the day of "The Invincibles" marked the beginning of the end of the glory years.
The long road to decline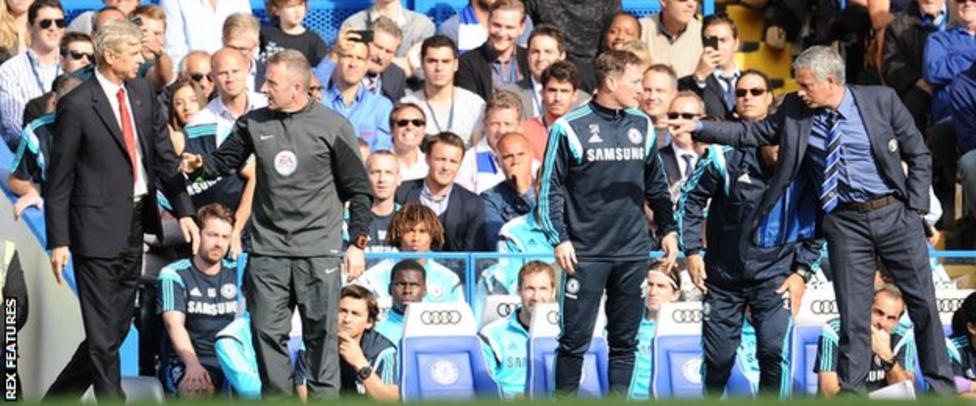 When the 41-year-old Jose Mourinho swept into Stamford Bridge on 2 June 2004 and christened himself "The Special One", it would have been hard to imagine his new rival Wenger would never win another Premier League.
So was the arrival of the brash, outspoken, confrontational Mourinho – fresh from winning the Champions League with Porto – the day the success died for Wenger?
Wenger, who was able to cope with the rivalry with Manchester United counterpart Ferguson, was suddenly trapped in a toxic relationship with a manager who got under his skin – and more significantly was in charge of a successful team that got the better of Arsenal.
Wenger did not manage a league win in 12 meetings with Mourinho until Arsenal defeated Manchester United last May. When it counted, he did not come out on top.
Wenger's overall win ratio remained high – but Mourinho's was better. The 2004-05 season was a perfect example. Arsenal delivered a 65.8% rate, only to be outdone by Chelsea's remarkable 76.3% record as the title returned to Stamford Bridge for the first time in 50 years.
The Frenchman could never reclaim the title he won regularly, taunted by Mourinho as a "voyeur" when it came to Chelsea's successes and, most damningly, "a specialist in failure".
So was Mourinho the man who started the downfall that led to an increasingly outdated and outflanked Wenger?
Wenger's refusal to depart from his trusted methods saw him left behind, a decline underlined by the new Premier League breed of not just Mourinho – who returned after successes at Inter Milan and Real Madrid to win the title once more at Chelsea in 2015 – but coaches like Chelsea title-winner Antonio Conte, Liverpool's Jurgen Klopp, Tottenham's Mauricio Pochettino and, of course, Pep Guardiola as he brought his purist, modern modus operandi to Manchester City.
As Arsenal were outclassed in the 2018 Carabao Cup final by Guardiola's City, the contrast in the technical areas was stark.
Guardiola was the symbol of modernism, while Wenger looked tired and struggling for new inspiration.
Brutally and ruthlessly, Guardiola looked like the man Wenger used to be.
"Historically, people will look back on Jose coming in. Football moves very quickly," said former Chelsea winger and BBC Sport analyst Pat Nevin.
"The pace of change, particularly tactically, has been extraordinary over the past 10 or 15 years, arguably more than ever before.
"It has adapted and changed, and people have adapted and changed with it. The thing about Arsene is that he has not really – so Jose Mourinho is a good point at which to start.
"And when you have a new group like Conte, Guardiola and Klopp all arriving at the same time, as they did and with Pochettino putting his stamp on Spurs, it accentuates that and makes it more obvious. We can all see it. When Jose comes in, you think that's a quantum leap. Arsene didn't adapt to that level."
So was Wenger guilty of presiding over what ended as a damaging period of stagnation?
"He did change everything and then stuck to his guns – but one man's sticking to his guns is another man's belligerence and unwillingness to change," added Nevin.
"They are both the same thing, just a different viewpoint on it. When you're successful, it looks like the former. When you're not, it's the latter.
"The question is whether he should have maybe left last year. If he wins the Europa League he has done the right thing in staying, but if he doesn't, even losing in the final, then people will say he didn't."
The once-visionary Wenger has maintained his fire still burns.
But in his latter days the fires seemed to burn more fiercely in others – including Conte, in his first season at Chelsea at least, Klopp as he reinvigorates Liverpool, his rival Mauricio Pochettino at Spurs (although Wenger can point to greater recent successes in terms of trophies) and Guardiola.
Wenger may not have lost his desire but was he the innovator and master of adaptation who eventually failed to adapt?
Cross defends Wenger fiercely on this criticism.
He said: "Along comes a new style with Klopp's pressing, Conte's wing-backs and defending. Do you honestly think that if we can see the difference, Arsene Wenger can't? Some experts drive me mad ridiculing him, believing they know more. I actually applaud him for sticking to his principles."
<! -- #comments -->